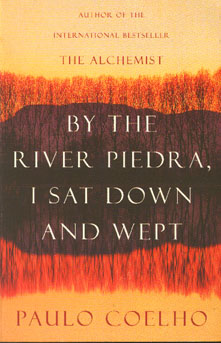 I used some of my free time on Friday to go to the bookstore. Yay! I hadn't read anything for fun for such a long time. I originally went in search of

Blindness

by Jose Saramago. I saw the preview for the movie adaptation and wanted to read the book before I watched the movie. Of course, I picked that book up. While I was wandering around, I found the Paulo Coelho feature section. For some reason, I instantly gravitated toward

By the River Piedra I Sat Down and Wept

. In a way, it felt like it picked me. I know that sounds odd, but there's no other way to describe it. I ended up buying both books.

I finished

By the River

this morning and loved it! It's been hard for me to find another Coelho book that I could love after reading

The Alchemist

. That book is amazing and is a tough act to follow. I've read

The Pilgrimage

and parts of

The Warrior of the Light

. Unfortunately, I wasn't as swept away by those books as I had been with

The Alchemist

. I thoroughly enjoyed

By the River

because it had a lot of the themes from

Alchemist

in it. However, it didn't have as many quotations worthy of being underlined. Even though it may not have this element, it is still a beautiful love story. Sometimes, it gets a bit awkward, especially when Pilar speaks. But who isn't awkward when they're falling in love? The subtitle for this story is "A Novel of Forgiveness." I'm still trying to work out how it is a novel of forgiveness. Overall, I definitely recommend reading this book.